Players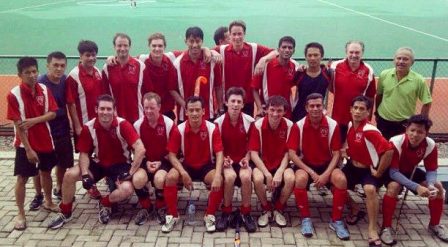 Stand (L to R): Deny, Koplak, Eric, Rob Daniel, Andy, Sascha, Conny, Nigel, Ihin, Chris
Sit (L to R) RJ, Ken, Nyayan, Matt, Colin, Sunil,Ichang, Ijan
2016 SQUAD
MEN'S PLAYERS
Name: Ken "Kapitan" Allan
Position: Half
Nationality: Aussie
Name: Deny "D'Cap" Fahruddin
Position: Half
Nationality: Indonesian
Name: Chris "Ex-Com" Wren
Position: Umpire
Nationality: British
Name: Mike "Manager" Gray
Position: Anywhere along the sideline
Nationality: British
Name: Muhammad "Ichank" Ichsan
Position: Forward
Nationality: Indonesian
Name: Mochamad "Otong" Sholeh
Position: Defender
Nationality; Indonesian
Name: Andres "Koplak" Andeta
Position: Winger
Nationality: Indonesia
Name: Robert "Shervo" Ballard
Position: Winger
Nationality: Aussie
Name: Scott Beckwith
Position: Half
Nationality: Australian
Name: RJ Kilner
Position: Half
Nationality: Australian
Name: Matthew Goerke
Position: Forward
Nationality: Australian
Name: Andrew Gadd
Position: Half
Nationality: Australian
Name: Simon William
Position: Half
Nationality: British
Name: Kim
Position: Half
Nationality: Korean
Name: Chris T
Position: Half
Nationality: British
Name: Daniel
Position: Defender
Nationality: Indonesian
Name: Hamish
Position: Defender
Nationality: Australian
Name: Jeremy Sumner
Position: Forward
Nationality: British
Name: Peter Mellor
Position: Defender / Half
Nationality: Australian
Name: Menno
Position: Forward
Nationality: Dutch
Name: Arnaud
Position: Defender
Nationality: Belgian
CAPTAINS
Prior ????
1988-1990            John Brewster, Aussie
1989-1991            Neil Taylor, British
1991-1993       Paul Reynolds, British
1994-1995       Noel Dore, Aussie
1996-2010 Ken Allan, Aussie
2010-2011 Thomas Cousins, British
2011-2012 Andrew Blackman, Aussie
2013-???? Deny Fahruddin, Indonesian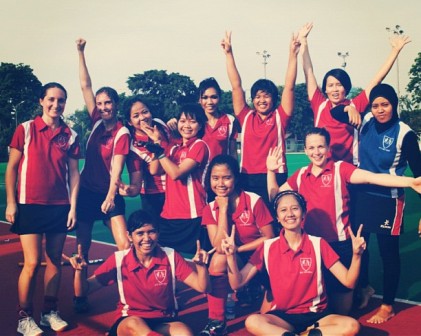 Stand (L to R) Martha, Lucila, Laura, Galuh, Gaby, Susi, Agatha, Sisil
Sit (L to R) Ello, Ntiph, Debbie, Elena
LADIES TEAM
Name: Susilowati
Position: Forward
Nationality: Indonesian
Name: Christina "BM" Irma
Position: Defender
Nationality: Indonesian
Name: Lina "Bunda"
Position: Anywhere along the sideline
Nationality: Indonesian
Name: Tiffany "Ntiph" Satya
Position: Defender
Nationality: Indonesian
Name: Silsilia "Sisil" Afriani
Position: Half
Nationality: Indonesian
Name: Galuh Sitompul
Position: Forward
Nationality: Indonesian
Name: Islami Fitri "Ello" Zahrah
Position: Half
Nationality: Indonesian
Name: Agatha Tedjamulya
Position: Defender
Nationality: Indonesian
Name: Sharifah "Ipeh" Ainie
Position: Half
Nationality: Indonesian
Name: Debbie Delima
Position: Forward
Nationality: Indonesian
Name: Martha Ellen
Position: Forward
Nationality: British
Name: Gabriella "Gaby" MeiMei
Position: Forward
Nationality: Indonesian
Name: Carol Holmes
Position: Forward
Nationality: Australian
Name: Jodie Mellor
Position: Forward
Nationality: Australian
Name: Debbie Debbie
Position: Defender
Nationality: Indonesian
Name: Mega
Position: Half
Nationality: Indonesian